We have over 1300 students and 450 teams competing in the Spring Stock Market Game across 40 schools!   We encourage you to look ahead at the program next year to learn financial and investment education while competing for cash prizes.   Glacier Bancorp and its family of Montana Banks will sponsor all team fees.  
The Stock Market Game is a nine-week simulation in which students are given a hypothetical $100,000 to invest in the stock market.  Students must have at least five separate stocks and/or mutual funds at the end of the simulation, so research and diversification are crucial for success.  Top state winners are given cash awards thanks to the generous sponsorship of Glacier Bancorp and its Montana family of banks.
To register for the Stock Market Game, go to the SMG web page, www.stockmarketgame.org, and click on the link in the upper right hand corner of the page labeled 'Registration'.  Follow the instructions to complete your registration. Contact Dax Schieffer at mcee@montana.edu for further information.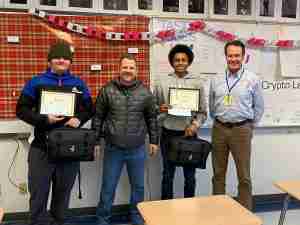 Corvallis winning students with Scott Burke(r) with First Security Bank Missoula 
Fall 2021 Results
1. Corvallis High School – Teacher Joel Loran
2. Belgrade High School – Teacher Rodger Enochson
3. Skyview High School – Teacher Kurt Wohler
4. Bozeman High School – Teacher Abbey Wesche
5. Whitehall High School – Teacher BJ Robertson
Spring 2021 Results
1st Place: Great Falls High School
2nd Place:  Washington Middle School, Glendive
3rd Place:  Noxon High School
4th Place: Roundup High School
5th Place:  Laurel High School
FROM MSU NEWS SERVICE DECEMBER 2020
BOZEMAN — The Montana Council on Economic Education, a partner program with Montana State University's Department of Agricultural Economics and Economics, recently recognized student teams from five Montana schools for their success in a semiannual stock market simulation.
The Stock Market Game, which ran Oct. 12 to Dec. 11, encourages middle and high school students to learn about and experience the workings of the stock market. Students begin with a fictional $100,000, which they must invest as wisely as they can with the goal of having the largest equity at the end of nine weeks.
"The Stock Market Game applies experiential learning using a simulated portfolio against the real stock exchange," said MCEE executive director Dax Schieffer. "Students conduct research, apply strategy and even consider brand loyalty for their picks. But just like in the real world, the market moves up and down, so they can learn lessons while not risking real money."
During the competition, students must invest in at least five stocks or mutual funds, which promotes research and diversification. The state's top five teams receive cash prizes through sponsor Glacier Bancorp's family of Montana banks. The top team in the simulation came from Westby High School, who ended the nine weeks with a total of $132,077.60 in theoretical equity.
"The most gratifying elements of working with schools through the Stock Market Game are the high level of engagement that we get and teachers sharing their students' excitement with the competition," said Schieffer. "The game is about investing wisely, and at MCEE our No. 1 investment is into our students. By ensuring Montana's youth are exposed to economic and market fundamentals, we help make sure they are given the foundation to be successful in life, career and family."